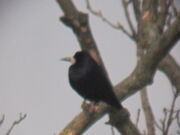 A quiet month and the newbies, Kevin and I, were still settling in to the patch and getting to know the key areas in preparation for spring. Walks off-track in Banstead Woods produced Woodcocks on 2nd (2 or 3 birds) and 18th (single). 3 Great Black-backed Gulls on the last day of the month turned out to be more unusual than we thought at the time. The Common Buzzard on the Big Field was seen occasionally as were the Little Owls. Nothing was seen that wouldn't be expected for the time of year. Yellowhammers reached 19, Skylarks 40+, Stock Doves 40+, Fieldfares 250+ and Redwings 350+. Goldcrests were seen on a regular basis, peaking at 5 on 30th and singing on 18th.
Ad blocker interference detected!
Wikia is a free-to-use site that makes money from advertising. We have a modified experience for viewers using ad blockers

Wikia is not accessible if you've made further modifications. Remove the custom ad blocker rule(s) and the page will load as expected.