THIS SITE HAS BEEN MOVED TO CFBWBIRDS.BLOGSPOT.COM, YOU CAN STILL BROWSE OLD CONTENT HERE BUT FURTHER UPDATES AND ADDITIONS WILL BE ON THE NEW SITE.Edit
Welcome to the Canons Farm and Banstead Woods Birding wikithumb|500px|rightEdit
This site is full of information on the birds of the area that constitutes Canons/Perrotts Farm and the neighbouring Banstead Woods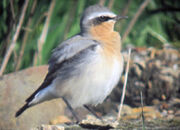 It is our attempt to put Canons Farm on the birding map and hopefully it could inspire people to check out this underwatched site that we and a handful of other local birders are pioneering.
You can find here general information on the area and its birds, all of the latest sightings, lists, photographs and more.
All photos by David Campbell unless otherwise stated. If you want to use any photos for any reason please contact us via the email address below.
Email canonsfarmbirds@hotmail.co.uk with sightings, comments, photographs or questions.
General information on the site

Kevin & David
Latest activity
Edit