The month started fairly slowly, but got more exciting towards the end. There was fairly limited observer coverage this month.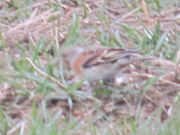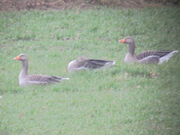 The main excitement was had on 27th when 2 species were added to the CFBW systematic list in the form of a flock of 5 GREYLAGS and an EGYPTIAN GOOSE that fed on the Big Field for a short while in the late morning.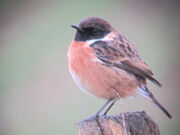 The first Lesser Spotted Woodpecker of the year was noted on 17th (and was seen again on 22nd). Bramblings were seen on 18th (male) and 27th (female). A Red Kite on 26th was an early record. The first two Stonechats of the year were seen on 27th, marking the beginning of a strong passage period for this species. 3 Canada Geese flew over on 13th, marking the first sighting of this species for the year (this was followed by 4 on 23rd and 24th) and a Cormorant on 19th also represented the first of many 2010 sightings as did a Pheasant on 27th. Rooks reached an impressive 22 birds on 27th.