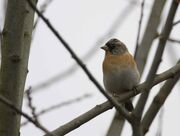 This beautiful finch is perhaps the top attraction of the site, for birders. Seen in many winters with the large Chaffinch flocks. Peak count was a nationally significant c.1,200 on 20th January 2008, which put the site on the birding map for the first time. 2 birds were present in the second winter period of 2009. The best fields for this species is the huge field dubbed as the 'Big Field' or 'Buzzard Field' which is as viewed north from Reeds Rest Lane, and the north-eastern most field with the single large tree in the middle.
Ad blocker interference detected!
Wikia is a free-to-use site that makes money from advertising. We have a modified experience for viewers using ad blockers

Wikia is not accessible if you've made further modifications. Remove the custom ad blocker rule(s) and the page will load as expected.