Scarce spring and autumn passage migrant, 3+ records: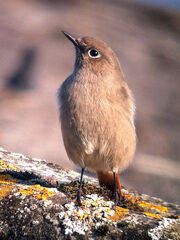 two females around barns behind Canons Farmhouse 28th March 2010-4th April 2010 (DKC/KJM).
three on 10th October 2010; one stayed till 12th October 2010 (DKC).
two stayed from 6th November 2010-7th November 2010; possibly one of this pair was seen again on 10th November 2010 and what was again presumably the same bird was again seen on 12th November 2010 (DKC/PGo/JF/JA).